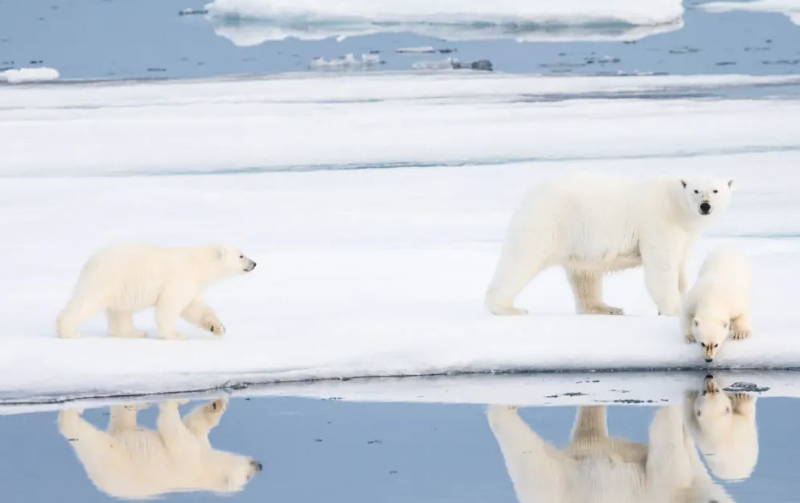 EXPEDITION | SVALBARD, NORWAY
JUNE 4th - JUNE 14th 2019
INTINERARY
Day 0 : We always recommend to arrive Longyearbyen at least one day and night in advance.
Day 1 : Departure from Longyearbyen through Isfjorden. Heading north or south, depending on the drift ice situation, into the drifting ice.
Day 2-10 : We set course for the areas where we know we will meet the drift ice. If we sail north or south this will be the focus. Some of the fjords and islands is interesting to visit and we will search systematically for wildlife wherever we go.
The route is just a estimate for where we can sail. This can, and probably will, be changed as we know this from our earlier expedition.
Day 11 : Leaving the ship after breakfast and prepare the travel home.

SYNOPSIS
Our expeditions is the ultimate in polar exploration. Svalbard is for the Norwegian owned company Arctic Wildlife Tours a well known back yard. This is a land where the guides and travel leaders need to know how to handle the constantly changing weather, drifting ice conditions and wildlife on its move 24 hours a day. Every day is different and every year is different, the High Arctic nature is in a ever lasting changing mode.
Join this exclusive small ship charter navigating through the Svalbard wilderness and icy waters of the High Arctic. We do focus on photographic opportunities but our expeditions are well suited for anyone interested in wildlife experiences. The guides aboard the small vessel MS Malmö are Norwegian and Swedish, all of them have long experiences hiking and exploring the Norwegian and Svalbard nature. The expedition ship MS Malmö is a well suited ship to do expeditions in Svalbard. During our expeditions we are commonly used to find between 10-20 Polar Bears. Please contact us and talk to us about what you can expect and for more information.
This will be a specialized Svalbard Polar Bear expedition, but not only for the professionals. If you are an amateur or a new beginner with your camera this journey still suites you! This particular Svalbard expedition and photo tour will last 10 nights onboard MS Malmö.
CLICK HERE FOR INFORMATION WITH OUR FRIENDS AT ARCTIC WILDLIFE TOURS