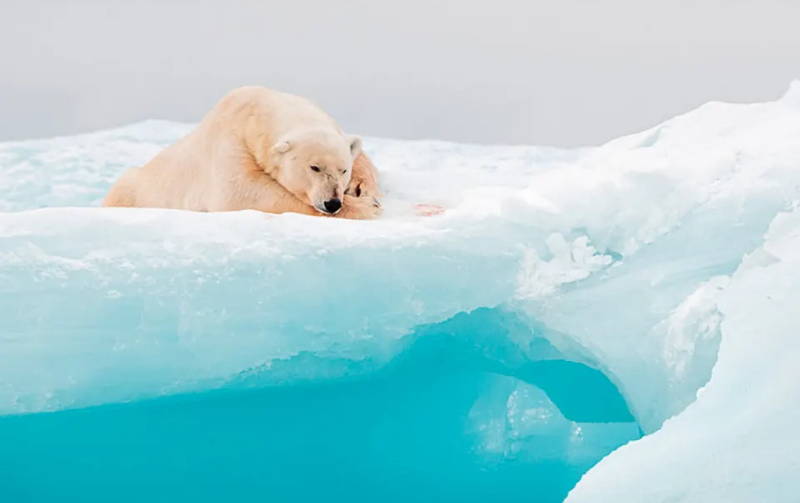 AUTUMN EXPEDITION | SVALBARD, NORWAY
SEPTEMBER 10th - SEPTEMBER 20th 2019
INTINERARY
Day 0 : We always recommend arriving in Longyearbyen, the biggest settlement on Svalbard, at least 24 hours in advance.
Day 1 : Depart from Longyearbyen through the Isfjord heading north or south toward the drifting ice.
Day 2-10 : We set course for the areas where we know we will meet the drift ice and the best landscapes in Svalbard. Some of the fjords and islands are interesting to visit for good landscapes and we will search systematically for wildlife wherever we go.
The route can, and probably will, be changed based on knowledge gained on previous expeditions and the current weather and drift ice conditions.
Day 11 : Leave the ship after breakfast and prepare for the journey home.

SYNOPSIS
For this Svalbard landscape and wildlife photography workshop, we will be chartering the expedition ship MS Freya hosted by Arctic Wildlife Tours and Svein Wik. Award-winning photographers Orsolya Haarberg and Erlend Haarberg will also be working with our guests on this tour. Orsolya Haarberg is known for her stunning landscape photographs and will help our participants to improve their abilities to take and process beautiful images.
In this Svalbard landscape workshop and expedition we will focus more on the great landscapes than usual. We decided to run this tour in September so that we could use the spectacular light that early autumn can offer. Of course, we will still have the opportunity to see and photograph wildlife like Polar Bears, Whales, Ivory Gulls, Bearded Seals, Arctic Foxes and the Northern Fulmar, and we will aim to get close to these animals in their beautiful surroundings, so that our guests can photograph wildlife in this pristine landscape.
This is an expedition for nature photographers who are passionate about photographing in magical light conditions and who want the possibility to get the best out of each unique moment on this tour. To enhance the chances for better photographs we will schedule longer stops than usual when going ashore in order to provide participants with enough time for photography. We will use three zodiac boats to go on shore or when searching for the wildlife at sea or in the drifting ice.
CLICK HERE FOR DETAILS WITH OUR FRIENDS AT ARCTIC WILDLIFE TOURS